Goa Yoga & Wellbeing Retreat
26th October-2nd November 2019

£725 per person
** fully booked **
Come and join us on another amazingly uplifting, joyful and enlightening yoga adventure in the most magical and wonderful Indian setting with Beinspired's Emma Després.
We pride ourselves in having found a couple of the most magical places on the planet to retreat, and this is one of them. We love Satsanga; it has the most amazing energy and naturally holds the space, so all you need to do is turn up and be deeply nurtured and nourished.
Situated in the small village of Verla Canca, between Anjuna Beach and Mapusa, Satsanga is a home-away-from home not far away from Goa's infamous beaches and vibrant markets.
Decorated with flowers and with special detail at every turn, you can't help but be enriched by all of the beautiful touches, as well as the warmth and smiles of the lovely Satsanga staff and the wonderful home cooked vegetarian food.
The twice daily yoga classes take place in the beautiful Shiva Shala adorned with a huge bronze statue of Nataraja (the dancing Shiva) so that you cannot help but get caught up in the spiritual energy that pervades this glorious part of the world – and invite Shiva into your life in the process!
The beautiful tropical gardens, and vibrantly painted 18-metre outdoor swimming pool (and many cosy places to rest and relax both on your own and with others) makes for the most tranquil and peaceful space to retreat.
The centre offers 15 warmly furnished and clean guest rooms all with private bathrooms with solar hot water, ceiling fans, mosquito nets and a daily jug of purified water. The rooms are cleaned daily.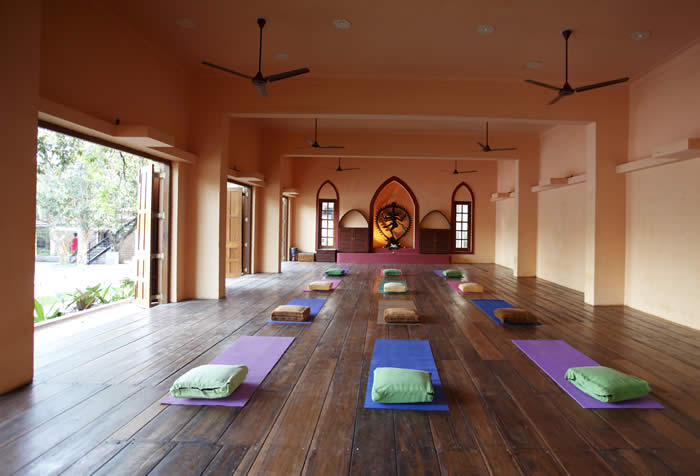 The Satsanga Retreat Centre is amazing! We love it – even Ewan loves it, and he wasn't sure he'd like India, but this is just another world all together!
Tucked in-between the main route from North Goa's popular Anjuna beach and Mapsa, Satsanga is situated in the village of Verla Canca. The nearest airport is the Dabolim Airport, which is 45 kilometres away and about one hour by taxi (the taxi drivers are all friends of Satsanaga).
Named one of the best yoga retreat centres in India, Satsanga is run family-style by our friends, Emma and Olaf, who are husband and wife owners. and have young sons, Lomax and Leo, who are friends with our young sons, Elijah and Eben.
Emma and Olaf offer Satsanga with yogic dedication, provide true Seva (service) not only to their guests but also the greater community around Satsanga – our son Elijah has fond memories of visiting the local animal sanctuary supported by Emma, for example.
Satsanaga employs 27 loyal staff, all of whom are from the local village. These lovely people are always ready to help and are a major part of the Satsanga community. They all strive to create an environment that supports your inward journey, so that you too may find (like us) that you don't want to leave!
All rooms are offered on a twin share basis, although single room options are available. Either way, there are plenty of chill-out areas for you to escape to during the day. That is, when you're not practicing yoga, eating in the courtyard, or enjoying a dip in the vibrantly painted central pool!
Absolutely everything about Satsanga shows how much care and attention has gone into creating an atmosphere of tranquillity and integrity. Satsanga even offers in-house Ayurvedic treatments, which compliment the retreat (and we speak from experience!). Outside Satsanga however, the world does continue; there are many beaches to explore, and markets to visit, and we certainly made the most of both quite easily.
Please see further information at www.satsangaretreat.com
What's included?
+ Seven nights accommodation at the beautiful Satsanga Retreat Centre on a twin-share basis (single room option is available at additional cost);
+ All buffet style vegetarian meals from local food;
+ Daily morning yoga classes;
+ Daily late afternoon yoga classes;
+ Use of yoga mats, blocks, straps etc;
+ Use of on-site swimming pool;
+ Unlimited purified water, and a variety of teas;
+ Complimentary Wi-Fi.
What's not included?
- Flights and travel insurance;
- Transfers to/from Goa Airpot
- Indian Tourist Visas;
- Items such as expresso, juices, chai etc. (kitchen is open 7am until 9.30pm);
- Excursions or day trips;
- Extra treats and activities;
- Taxis to and from places locally.
To Emma, yoga encourages the unfolding of the true self, of allowing the spirit to shine and the heart to lighten. Teaching a flowing and dynamic form of Hatha yoga, Emma encourages awareness of breath and energies of alignment so that one can experience the transformative, healing and uplifting effects of yoga for oneself.
As a Reiki Master teacher and a Holistic therapist, Emma teaches in a deeply intuitive way, allowing a nurturing and supportive environment which allows students of all levels to deepen their practice and encourages greater awareness of body, mind and soul.
The yoga classes take place in the beautiful wooden Shiva Shala. The tempo and creativity of each class will be determined by the group energy with alternatives given where necessary. The morning session will likely include an active asana class, linking breath with movement, and finishing with a relaxation. The late afternoon class will be gentle and introspective, allowing one to wind down into the evening and will likely finish with a Yoga Nidra. Pranayama (breathing exercises), chanting (using sound vibration) and guided meditation will be woven into the classes where appropriate.
The yoga is suitable for all levels of ability as options will be given to cater for different levels of experience, including those relatively new to yoga. However, the yoga is not suitable for those with chronic injuries and/or illnesses that require one-to-one attention. Yoga mats and all props are provided, please just bring your heart and spirit!
Emma travels with Ewan and their beautiful boys, Elijah and Eben, who you will see on and off throughout the week.
Each morning we will join together at 7.30am for a two-hour yoga session. A yummy buffet breakfast will follow.
There is free time set aside each day for you to soak up the Goan energy, hang out by the pool, go to the beach, visit the markets, explore the area, enjoy a treatment, or retreat on your own.
You will have the option in the morning to sign in for the vegetarian lunch at 1pm, or you can go out for the whole day if you prefer.
We will meet again at 4.30pm for a two-hour gentle and introspective yoga class finishing with a Yoga Nidra. The buffet-style yummy evening meal will follow at 6.45pm.
We are also hoping to have the opportunity to once again enjoy an evening of Dhrupad with the lovely Chiara. This is the most ancient style of Hindustani classical music that has survived today in its original form. The Dhrupad tradition is a major tradition of Indian culture and is deeply spiritual. It can take the listener straight to the heart. We may also enjoy an evening of Kirtan (caller and response) depending on availability of Kirtan leaders at the time.
There will be no class on the Wednesday afternoon, allowing you the opportunity to stay out for the day, and/or visit one of Goa's yummy restaurants. You're welcome to stay and eat at Satsanga with us however.
There's so much to do and see in Goa. During your free time you can go to one of the many beautiful beaches, the lively and colorful markets, tour the Spice Plantation, take an excursion to Old Goa to see the Portuguese Cathedrals and Hindu Temples explore the local natural environment and/or have a treatment.
At the Centre itself you can receive an Ayurvedic treatment, including a selection of massages and the amazing Shirodhana (warm oil on the forehead).

Additionally, the Centre offers Indian-vegetarian cooking classes for those wanting to bring a bit of spice into your life back home.
The fantastic staff at the Centre are on hand to assist in arranging all extra activities that you may wish to enjoy during your stay. They will also organize all transport necessary – the taxi drivers are very friendly and friends/ relatives of the Satsanga staff.
"How to sum up this experience in a few words? Frangipani floating in the pool, a cacophony of birdsong to wake to, huge butterflies, a ball of fire as the sun rises over the treetops, thought provoking amazing yoga, a Buddhist bell to call you to meals, chatting to new found friends , lovingly prepared tasty food, salty and sweet lime spritz, the hypnotic sound of sweeping, happy friendly faces, walking everywhere in bare feet, a myriad of cosy places to sit and contemplate, Ganesh watching from the balcony, Shiva dancing in the shala, a shower under the stars, the local village singing at sundown, herbal chai before bed and not forgetting my gecko friend 'sticky feet'…..
This retreat with Emma is a true sanctuary and an experience that will enrichen your life. Namaste."
- Kate
"Staying at Satsanga was a truly enriching experience for daughter Georgina and myself. We enjoyed lots of lovely (and varied) yoga sessions, ate delicious vegetarian food and benefited from plenty of chill out time in beautiful and tranquil surroundings. The icing on the cake was the special friendships we made with our fellow 'Marigolds' - we can't wait to go back."
- ALI
"Emma's 2017 Satsanga Retreat in Goa was magical. It goes without saying that Emma's classes in the beautiful yoga hall were amazing. The owners and staff of Satsanga couldn't be more welcoming and lovely. The food was healthy and delicious, the spa treatments not to be missed and who wouldn't love watching the monkeys flying through the trees as you relax in the pool! It was truly one of the best weeks of my life with the added bonus of making friends that I hope will stay in my life for a very long time."
- SARA
How do I book?
This retreat is now fully booked.
Please email Emma at emma@beinspiredby.co.uk to be added to the cancellation reserves list.
Want to know more details?
If you'd like to know more about the retreat, please click on the button below to download the full information pack, including details about visas and travel arrangements.